2012-13 Results and Media Coverage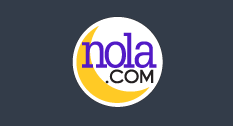 Brusly takes commanding lead in Division III state wrestling tournament
Pat Mashburn, NOLA.com | The Times-Picayune, February 15, 2013 10:35 p.m.
Thomas Jefferson's Spencer Savoie takes down Brittany Bates of Doyline in the 113-pound class. - (Pat Mashburn)

For a brief moment in time, it appeared that John Curtis might be able to keep pace with defending Division III champion Brusly.

That vision was short lived as the Bears showed just why they are poised to claim another title with a huge lead going into the final day of competition at the Pontchartrain Center. It's a point which Brusly coach Jimmy Bible drove home to his team.

"We've got seven guys in the semifinals and six in the back brackets, so it's up to those guys to do their jobs and get to a point where they can place," Bible said. "This thing isn't over with yet, because those guys who get to the consolation bracket are wrestling for the team now. They have to get points to make up for the ones they would have had in the championship rounds. If we could push at least five into the finals, that would spread us out some more."

At the end of the first day, Brusly enjoys a comfortable lead with 117.5 points, followed by North Vermillion (93), Evangel (85.5), John Curtis (85.5), Bossier (80), Basile (78), Episcopal-B.R. (44.5), Doyline (42), and North Desoto (41).

Carrying the load into the semifinals for Bears are Barret Sanchez (113), Wyatt Lejeune (120), Toby Hebert (126), Trevor Schermer (132), Don Stufflebeam (138), Koby Mancuso (152), and Dillon Prejean (170).

The quick start by John Curtis provided momentum, but along the way, there were obstacles in their path which caused them to stall their progress.
"It was disappointing with the way we performed," John Curtis coach Jeff Berger said. "Our job now is to come back and salvage what we can and finish the tournament out on a high note. We are very capable and we can still prove it."

Three top seed Patriots are still alive, including Prentice Spurlock (106), Baron Clofer (170), and Spencer Lemoine. Plenty of motivation remains, especially for Lemoine.

"After losing last year, I've never wanted something as much as I do now," Lemoine said. "I feel very hungry, and this is a very close knit team. We're trying to win for each other."

Thomas Jefferson's Brent Matherne is feeling at the top of his game in the 138-pound class as the top seed, and there isn't a lot that could shake his confidence as he prepares to do battle against Brusly's Don Stufflebeam.

"Even though I've only wrestled one match in the tournament so far, I feel pretty good," Matherne said. "I I've never had Brusly competition before that could beat me, so I think I can win. I'm ready to go after it."

In the 152-pound class, De La Salle's Alex Martin lived up to his top seeding with pins in his first two matches, the first in 1:43 against Darren Fontenot of Basile after receiving a first round bye. In the semifinals, Martin will take on Brody LeMaire of North Vermillion.